The M1 ultra can crank out a clang build in 6min30s. Which is 2x the M1 Max! Really impressive if you are building clang or other large cmake projects

M1 Ultra: 6m30s
M1 Max: 13m54s
16 core Xeon Mac Pro: 11m51s
Xcode Build Times on Mac Studio M1 Ultra: Huge gains [vs. M1 Max] for Swift projects; marginal gains for Objective-C (standard build system)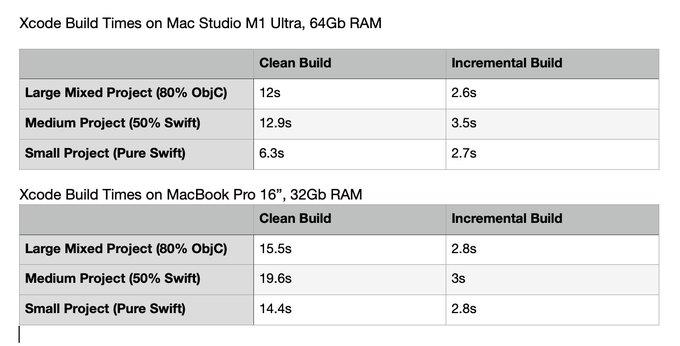 Xcode takes better advantage of the extra cores than I expected.
Previously:
Update (2022-04-11): Peter N. Lewis:
Initial Mac Studio Apple M1 Ultra benchmark compared to a 2019 iMac 3.6 GHz 8-Core Intel Core i9. Full build of Keyboard Maestro down from 2:20 to 0:45 (!), and incremental nothing change build down from 9.3s to 5.6s.
Update (2022-04-12): Beehive Innovations:
EnableSwiftBuildSystemIntegration did make some difference when turned on, for a large mixed ObjC+Swift project when testing this on a 10-Core M1 Max (MBP 16inch, 64 GB RAM).

I just tested the same project on a 20-Core Mac Studio M1 Ultra (128 GB RAM) and surprisingly the build times are exactly the same. No difference apart from +/- a couple of seconds.
Leave a Comment