Largely because of the economic realities of Twitter clients, few developers ever invested in a Twitter app for iPad that wasn't a cost-effective adaptation of its iPhone counterpart. Many took the easy route, scaling up their iPhone interfaces to fit a larger screen with no meaningful alteration to take advantage of new possibilities.

[…]

In the process, Tweetbot 4 offers a dramatic overhaul of the iPad app, bringing a new vision for a Twitter client that's unlike anything I've tried on the iPad before.

[…]

The most notable change in Tweetbot 4 for iPad is a new column view that puts a second column on the right side of the screen in landscape mode. Based on Tapbots' previous work on OS X, the second column allows you to pin views, lists, and searches for the current account to the right. The column is fully interactive and it lets you move across different sections at any time with one tap.

[…]

This won't come as a surprise, but Tweetbot 4 adds support for iOS 9's Safari View Controller to open links inside the app with an in-app browser based on Safari. Safari View Controller can be enabled by going to Settings > Browser and toggling 'Open in Tweetbot'.
This is not a review. There are several other places you can go for that. What I want to talk about are the little charts it provides in the Stats view. They're fun without being obsessive the way Twitter's own analytics charts are.
Dan Edwards (via Dave Mark):
Recently Tweetbot 4 was released as a cross-platform update that'll work on iPad & iPhone. Right now (at 50% off), it's a $4.99/£3.99 app. Regardless of whether you bought the old Tweetbot recently, or at all.

Some people were pretty angry about this[…]
I like the new iOS version (App Store). It is frustrating, though, that this update again fits less on screen at once than the previous version: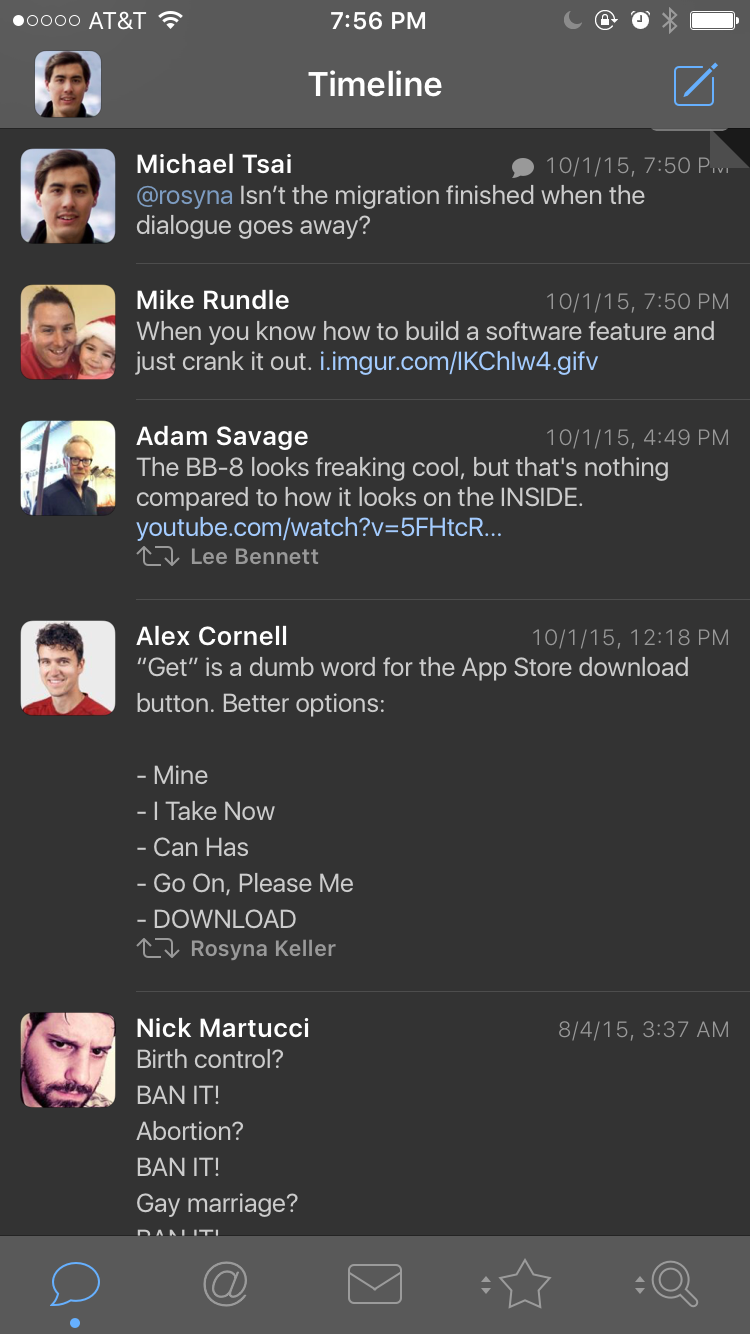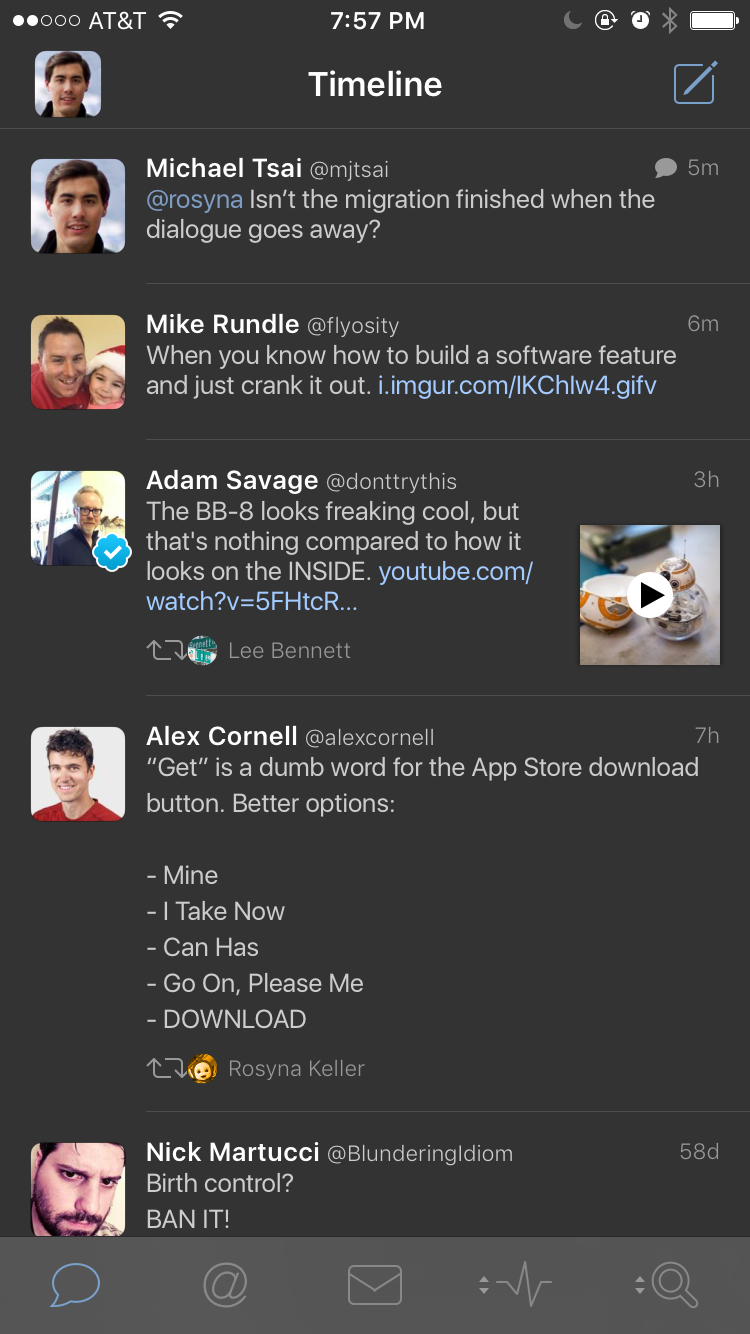 The other problem, not Tapbots' fault, is that to get out of Safari View Controller, you have to scroll to the top and then reach to tap the Done button at the top right of the screen.
The new Mac version (App Store) uses San Francisco, which looks great, and adds a useful Scroll to Last Read feature. There's a bug with the global hotkey, which I've worked around with a script. There is still no way to select text in the main view.
Update (2015-10-08): Dr. Drang:
According to Paul, the next revision to Tweetbot will use monospaced numerals in the countdown, which will eliminate the jumpiness except when the number of digits changes. This'll be much better, although personally I'd prefer either a right margin with a fixed width large enough to accommodate a three-digit count or to have the counter moved from the right margin to the otherwise unused space under the user's avatar.
Despite this, the view I'm most interested in is not the Stats tab, but the Activity tab, which shows a real-time view of favourites, retweets, and replies. The latter is especially nice because it functions kind of like a conversation view or inbox; tapping on one of the cells will take you to the tweet. But tapping on a favourite or retweet will take you to the user profile of the person who performed that action, rather than the tweet to which it applies. That makes for an inconsistent and rather strange experience, for me at least.
Update (2015-10-14): The Tweetbot 4.0.2 update adds a swipe gesture for closing the Safari View Controller.
Leave a Comment